The Tourist side of La Granja
Like we said before, the capital is just located 11 Km from La Granja de San Ildefonso, where was a place with a patio in a square shape organized and run by monks of the San Jeronimo's order.
Originally, this locality was inspired by the king Enrique IV. His palace was deteriorated, then he asked to build the hermitage of San Ildefonso. Later the monks moved closer to the king who did build a modest place for them (Granja). The king Felipe V was amazed and liked the palace of Valsain which today doesn't exist.
This palace hadn't been built to get it very important and majestic because the royal family wasn't keen to stay there regularly.
The palace had been built in a decorative style quite sad, tribute to the death of the king Louis II, seven months before his reign.
Then, was decided to extend the palace to be able to receive the royal family whenever they want. More edifices were built after that like Infantes, Canonigos, Guardia de Corps, Caballerisas Reales, Oficios, Casa de Postas and few more.
Some of them still exist like La Casa Bauer which today is split in several flats and La Casa de Amina which used to be the embassy of the United States of America. A production was important in La Granja under the reign of Felipe V and still operated today ,the Glass.
The Colegiata royal family annexed the the first house fo the palace where is buried Felipe V and his second wife. He is the only king who hasn't been buried in l'Escorial.He was the grandson of Louis XIV and was born in Versaille, that's why we tried to build a majestic palace like the one in Versaille but didn't succeed. Lazoya says one day that it was the biggest and the most expressive work seen in the XVIIIth century.
The palace has an extension in the mountain side, with gardens "à la Française" and added with an Italian style which was very popular at this time. To be supplied in water, an artificial lake was built on the top of the estate, it's still functioning today.
Pages of our history were written in this palace, mainly under the reign of king Fernando VII. Like for exemple the succession of his daughter Isabelle II and the decisions to make the war (Carlistas).
You can visit this place, the gardens are opened to the public, the fountains are animated of water three times a year, the day of San Fernando, Santiago and San Luis and several Sundays.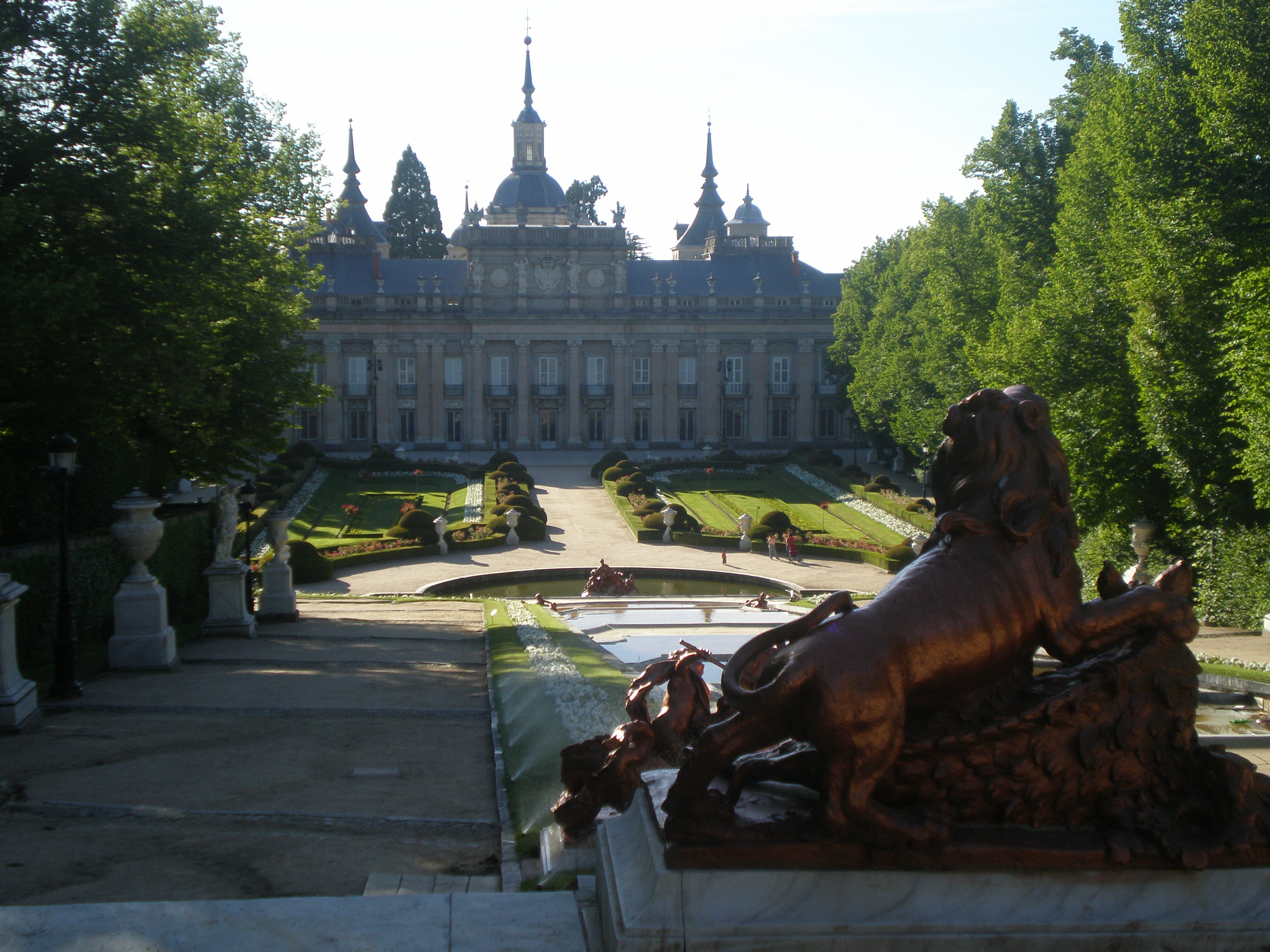 Felipe II loved his land, he wanted to build the Monasterio del Escorial but in La Granja one edifice was already there (Hospederia) and another one in Segovia (Del Parral).
So he decided to forget the idea to build something which would be the same kind of work too close to the others.